The Best Wildlife & Pest Control Company in Dayton, OH!
Are you dealing with a wildlife or pest problem in Dayton, OH? Get the instant relief you need and long-term protection you deserve! To get started, request a quote online.
Our Wildlife & Pest Control Services
100% Satisfaction Guaranteed
Here at Bayer Pest Control, we do our best to show up on time, treat your home with respect, and get rid of your pest or rodent problem right the first time around. So in the unlikely event you're not satisfied with your most recent service, simply give us a call. We'll come back and retreat your home at no additional cost to you, we 100% guarantee it!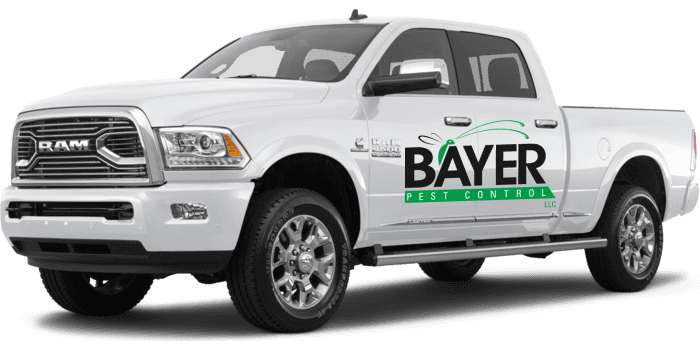 What Our Customers Have To Say
★★★★★
"We called Bayer Pest Control because we had been dealing with roaches for several months and just couldn't seem to get rid of them even though we kept the house clean. Dan was quick, professional, knowledgeable, friendly, and there was FANTASTIC customer service from a man who truly cares about his customers and loves what he does because he can help people, a trait you don t often see these days."
- Tiara B. in Fairborn, OH
★★★★★
"Dan is very prompt and courteous. He called ahead to confirm the appointment. He made me feel at ease with the embarrassment and frustration of cockroaches. He was very thorough in treating our home and assuring the products are safe for our kitten. I especially appreciate the pricing and month to month treatment which includes all pest should we have a problem with anything else. Thank you."
- Mandi P. in Springfield, OH
★★★★★
"One of the most honest & ethical companies I've ever done business with. Addressed my pest/insect issue promptly and explained in detail everything he intended to do. Wasn't pushy and did not try to sell me something I didn't need. I also loved that the method of treatment was completely safe for my pet. I would not hesitate to recommend this company to anyone I know. So happy I chose Bayer Pest Control."
- Dan A. in Maineville, OH
Our Wildlife & Pest Control Coupons
10% Off Your First Pest Control Treatment
First time doing business with Bayer Pest Control? Get 10% OFF your first Residential pest control treatment!
For services over $350*

$50 OFF


Put an end to your pests issues. Get $50 Off your Initial service of a Residential Pest Protection Plans!

5% Off on Annual Plans

When You Pay for a year*
Looking for long-term relief? Switch to our annual residential plans and save BIG today!